Upgrade Your Ride: The Top Technology Features of the Ford F150 Hybrid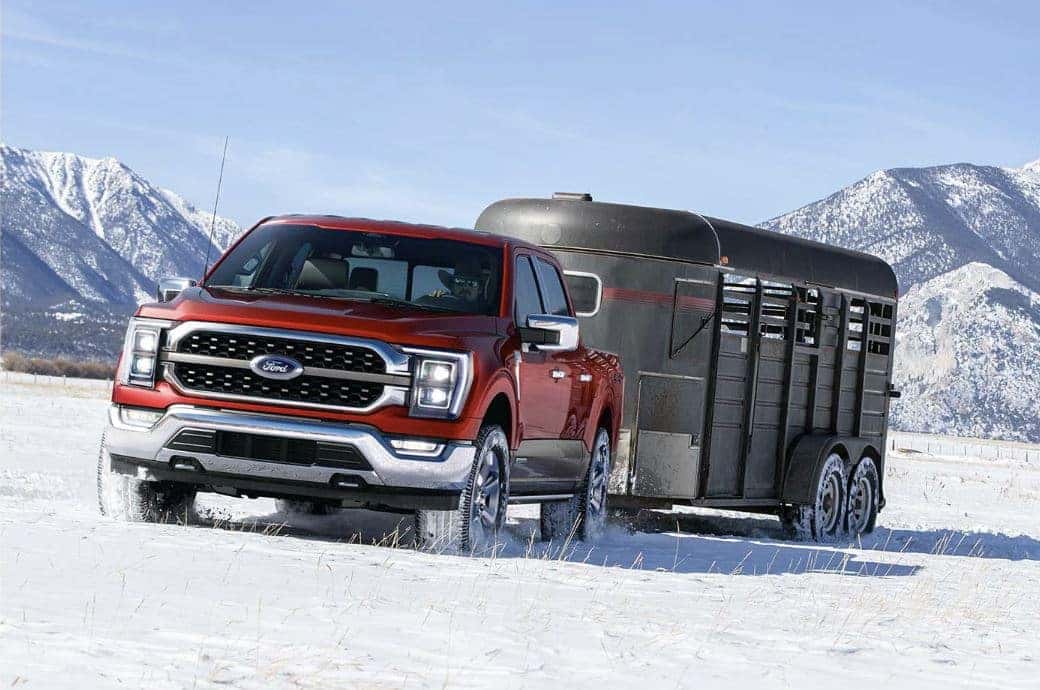 The Ford F-150 Hybrid is an incredible combination of power and technology. It's the perfect way to upgrade your ride, with a host of innovative features that make it stand out from the competition. From its 3.5L EcoBoost engine and powerful electric motor, to its selectable drive modes and Pro Power Onboard inverter, the F-150 Hybrid has everything you need for a smoother and more efficient driving experience.
With the F-150 Hybrid, you can take advantage of regenerative braking to help reduce fuel consumption and maximize performance. Plus, the lithium-ion battery offers plenty of energy storage capacity to keep you going even when the engine isn't running. And the 10‑speed automatic transmission makes shifting gears easier than ever before.
Finally, the 7.2-kW Pro Power Onboard inverter allows you to power your tools and devices while you're on the road. You'll never have to worry about being without power again – no matter where life takes you. The F-150 Hybrid is the ultimate tool for any job or adventure. So why wait? Get behind the wheel and start living life faster today!
The Best of Both Worlds
Introducing the F-150® Hybrid, a vehicle that combines the power of a gas engine with the efficiency of an electric one. With this class-exclusive* advanced technology, you get all the performance and capability of a traditional pickup truck while also receiving the benefits of improved fuel economy. Built Ford Tough®, it's powered by a class-exclusive** PowerBoost™ full hybrid V6 engine that puts out 430 horsepower and 570 lb.-ft. of torque†─so you can expect nothing less than peak performance from the F-150® Hybrid.
But the hybrid isn't just about power; it's also about convenience. Whether you're hauling heavy loads or running errands around town, you'll be able to switch between electric and gas modes based on your needs. This means you don't have to sacrifice performance for sustainability─you get the best of both worlds. Plus, the regenerative braking system helps recharge the battery as you brake, so you can keep going without having to stop often.
Whether you need a reliable workhorse or a stylish ride to take on the weekend, the F-150® Hybrid packs a punch. From its powerful engine to its versatile capabilities, this truck is ready to tackle any job. And with its combination of electric and gas modes, you won't have to choose between performance and efficiency─you can have both. Experience the ultimate combination of power and efficiency with the Ford F-150® Hybrid.
All the Power,  but Less Time at the Pump!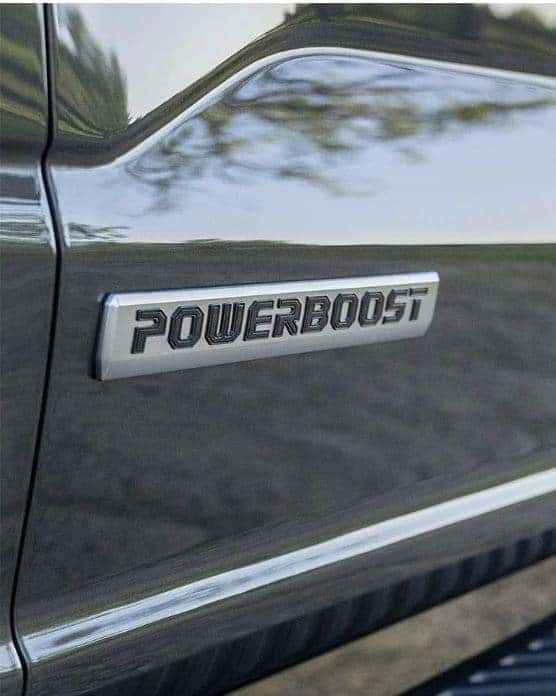 You don't have to sacrifice power for efficiency with the Ford F-150 Hybrid Model. It's all thanks to its class-exclusive 3.5L PowerBoost V6 engine – an army of one, combining gas and electric energy into a single powertrain. With this powerhouse under the hood, you can still get up to 430 horsepower and 570 lb.-ft. of torque† while achieving maximum towing capacity of 12,700 lbs.**
The hybrid model offers unbeatable fuel economy that allows you to spend more time on the road and less time at the pump. Its advanced system monitors and adjusts your acceleration automatically so you use just the right amount of gas or electricity depending on the situation. Plus, its regenerative braking feature helps to recharge the battery by converting kinetic energy from each stop.
So if you want uncompromising power without compromising your wallet, then the Ford F-150 Hybrid is the perfect fit. You get legendary performance capabilities with improved fuel efficiency – it really doesn't get any better than that!
Pro Power Onboard
The Ford F-150 Hybrid is the perfect truck for getting those projects done – big or small. Thanks to Pro Power Onboard™, you can now turn your truck into a mobile power generator with exportable power and up to seven different available outputs! No matter what kind of work you need to get done, the F-150 Hybrid has got you covered.
Whether you're powering a TV at a tailgate party or welding on the job site, you'll be able to easily monitor and track wattage via the SYNC® 4 screen or FordPass™ App. With four to six 120V/20A outlets, you can plug in anything from a coffee pot to a TIG welder. And with three different wattage configurations to choose from (2.0kW, 2.4kW and 7.2kW), you'll never have to worry about having enough power.
The Pro Power Onboard feature gives you the convenience of being prepared for any situation without having to lug around extra cords or bulky generators. If you need to make quick repairs, no problem. Just hop in the cab, fire it up and crank out that project with ease. Whether you're setting up camp or working hard on the job site, the Ford F-150 Hybrid's Pro Power Onboard makes it easy to do more.
Proven Built Ford Tough!
The Ford F-150 Hybrid is truly Built Ford Tough. From its advanced Pro Power Onboard to the class-exclusive* exportable power, it redefines what it means to be a dependable truck. Its three available outputs—2.0kW, 2.4kW and the massive If the nameplate says F-150® then you know it's Built Ford Tough® give you greater control in nearly any situation. This full-hybrid model has also passed every demanding test that comes with bearing the F-150 emblem. You can trust this model to exceed your expectations for capability and dependability no matter where you take it.
If you're looking for a vehicle that will stand up to whatever life throws at it, look no further than the Ford F-150 Hybrid. It offers unparalleled performance, power, and versatility – something no other truck can match. With Pro Power Onboard and the ability to use your truck as a mobile generator, you'll have total confidence in its reliability. No job or campsite is too big or small for the Ford F-150 Hybrid. So make sure you get one that's Truly Built Ford Tough!
3.5L PowerBoost Full Hybrid V6 HYBRID
Feeling the need for speed? The Ford F-150 Hybrid Model is just what you need. Its 3.5L PowerBoost Full Hybrid V6 engine packs a serious punch, with 430 horsepower and 570 lb-ft of torque at 6,000 rpm. But that's not all – this baby also comes with a 1.5 KWH lithium-ion battery, liquid cooled and engineered to minimize weight while delivering optimum performance. Plus it's mounted between the frame rails below the load floor, so your passenger space and cargo area are unaffected.
Not only does the 33kW electric motor make sure you have plenty of power and torque, but it also helps out with regenerative braking energy capture and Pro Power Onboard generator mode. To top it off, the hybrid model features belt-driven starter operation, electrically boosted brakes, and high-voltage air conditioning compressor – perfect for those times when you don't necessarily want an engine running.
So if you're looking for a ride that has power, efficiency, and style all in one package, then look no further than the Ford F-150 Hybrid Model. With its 3.5L PowerBoost Full Hybrid V6 engine, you'll be zipping around town in no time!