All New 2023 Ford Maverick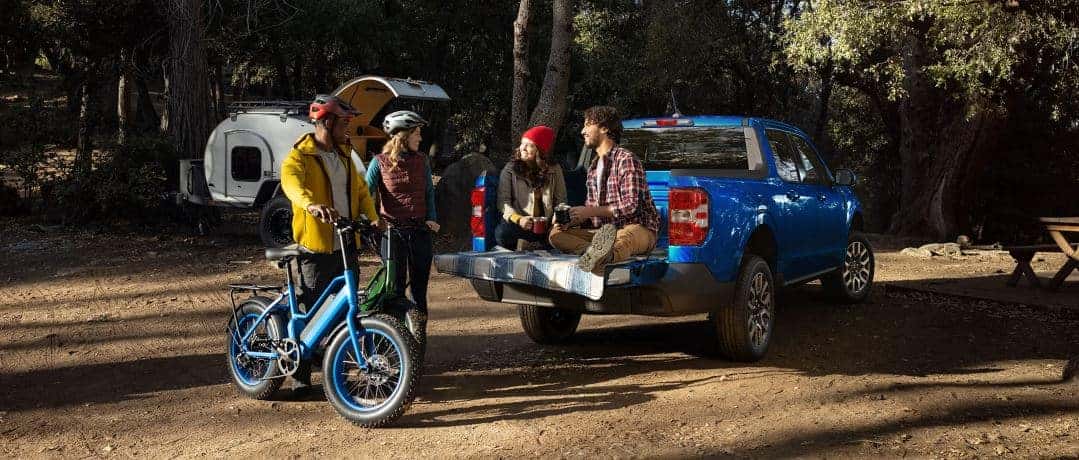 Are you looking for a way to break free of the daily grind? Well, I'm here with some exciting news about the all-new 2023 Ford Maverick. It's the perfect ride for anyone who wants to take their life off-road and explore new possibilities. The Maverick has been designed from the ground up to provide an exhilarating driving experience that will make your heart race. With its sleek styling and powerful engine, this vehicle is sure to turn heads wherever it goes. So if you're ready to unleash your inner wild side, then read on! Let me tell ya what makes the Maverick so special…
Overview
The all-new 2023 Ford Maverick is the latest ride from a brand that's been around for over 100 years. It's got something for everyone and it ain't your average vehicle! The new model strikes an impressive balance between style, performance, features and price. So whatever you're looking for – be it hauling buddies or cargo – this one won't disappoint.
It brings modern tech and advanced safety systems to the party too, so don't think twice about hitting up those cross country roads in complete confidence. All of this comes wrapped in some amazing exterior styling that'll turn heads wherever you go. And while power may not be its strong suit (it has a 2.5 liter 4-cylinder engine), there's still plenty there to get where you need to go without breaking the bank on fuel costs.
Inside the cabin, comfort reigns supreme with adjustable seating positions, generous headroom and legroom, plus even more convenience features like wireless charging and USB ports throughout. You can also control most of these functions via voice commands using Ford's SYNC 3 system which works seamlessly across both Apple CarPlay & Android Auto platforms. Plus, when combined with standard 8" touchscreen display makes accessing what you want fast & easy every time.
This car packs a lot of value into one package; so if you're after a reliable ride at an affordable price point then look no further than Ford Maverick – it delivers on all fronts! Now onto Design & Exterior Features…
Design And Exterior Features
The all new 2023 Ford Maverick is a sight to behold. With its sleek body lines, modern styling, and bold front grille design, it's sure to turn heads on the road. The exterior of this vehicle can be customized with an array of color options that range from classic shades like white and black to eye-catching hues like fiery red or cool teal.
It also boasts some impressive features, including LED headlights and taillights for improved visibility at night as well as power-folding mirrors for easy access in tight spaces. Furthermore, the roof rails add a touch of sporty style while providing added cargo capacity when needed.
This compact pickup truck rides high above the ground giving off that adventurous vibe that screams "open road!" Its wide stance helps ensure stability even on rough terrain while maintaining optimal balance between performance and fuel efficiency. And speaking of performance, the powerful engine allows you to take charge no matter what the conditions are outside – rain, snow or sunshine – so you can get where you need to go without worrying about being stuck in traffic jams or bad weather conditions.
And let's not forget about comfort; the cushioned seats provide plenty of support during long drives while also helping keep your passengers feeling relaxed throughout every journey. So if you're looking for a ride that looks great and offers maximum convenience, then look no further than the all new 2023 Ford Maverick! As you step inside this incredible machine, prepare yourself for an interior experience unlike any other…
Interior Features
The all new 2023 Ford Maverick has a sleek and modern interior that will make every drive feel like an adventure. From the moment you slip into the driver's seat, you'll be enveloped in comfort and style. Here are just some of the great features you can expect:
– A 10 inch touchscreen with Apple CarPlay & Android Auto for easy access to your music and navigation
– Heated leather seats that provide superior cushioning and support
– An adjustable cargo shelf so you can customize the storage space inside your vehicle
And of course, there are plenty of other amenities – including ambient lighting, wireless charging, rear view camera, keyless entry and more! The Maverick is designed to keep up with your active lifestyle by providing maximum convenience and luxury. With its spacious cabin and intuitive technology, it's a dream come true for anyone looking for an escape from everyday life. Now, let's take a look at what this vehicle offers under the hood when it comes to engine and performance…
Engine And Performance
Well, now that we've discussed the Maverick's interior features and amenities, let's turn our attention to what really makes this Ford truck stand apart: its engine and performance.
Under the hood lies a 2.0L EcoBoost four-cylinder turbocharged powerplant capable of producing 250 hp and 310 lb-ft of torque. This is combined with an 8-speed automatic transmission for crisp shifting across all gears. The result? A zippy ride experience that you won't soon forget. Plus, thanks to its impressive EPA fuel estimates, you can count on getting great gas mileage too!
But it doesn't stop there – the Maverick also comes equipped with several advanced safety features such as lane keep assist and adaptive cruise control. These will help ensure that your drive is both safe and comfortable no matter where you're headed. And speaking of comfort, the suspension system has been designed to give drivers an incredibly smooth ride regardless of road conditions or speed.
If that wasn't enough, there are plenty of other exciting options available like remote start/stop capabilities as well as a few different driving modes including sport mode for when you want some extra zip from your vehicle. All in all, the new 2023 Ford Maverick packs quite a punch in terms of power and performance without sacrificing any creature comforts along the way. Now let's take a look at how this mighty machine stacks up when it comes to tech and infotainment systems…
Technology And Infotainment System
The all new 2023 Ford Maverick is packed with technology. Over 90% of the vehicles sold will come fully loaded with a range of advanced features and systems, from an 8-inch touchscreen infotainment system to Apple CarPlay and Android Auto integration. You can even find options for built-in 4G LTE Wi-Fi hotspot capability. With so many incredible features, it's no wonder why drivers are excited about this car!
In terms of safety and convenience, the Maverick offers plenty. Blind spot monitoring helps you change lanes safely while adaptive cruise control keeps you in your lane on long drives. The Forward Collision Warning System alerts you when another vehicle gets too close or if there is anything obstructing your path ahead. All these features help make driving easier and more enjoyable.
The interior also has some great tech touches that add comfort and style to any journey. Ambient lighting sets the mood whether you're heading out on a road trip or staying in town for the night. And everyone loves those heated seats during colder months – they'll be sure to keep you warm throughout wintertime travels! Not to mention the available wireless charging pad which makes powering up devices easier than ever before.
Finally, let's talk about audio quality – because we all need our music! The Maverick comes equipped with B&O sound as standard equipment across every trim level – guaranteeing high fidelity sound for whatever kind of tunes you have on hand. From top 40 hits to classic rock, this small SUV does not disappoint!
When security matters, rest assured knowing that the Maverick has got your back covered with its suite of cutting edge safety and security systems…
Safety And Security Systems
The 2023 Ford Maverick is available with the latest in safety and security technology. It's loaded with features that give drivers peace of mind when it comes to their vehicle's protection. Here's a look at some of the key offerings:
Pre-Collision Assist & Automatic Emergency Braking: This system uses radar and camera sensors to detect potential collisions, alerting drivers and applying brakes if necessary.
Blind Spot Information System (BLIS): BLIS warns you when cars enter your blind spot zones by displaying an icon on the side mirror or door post.
Lane Keeping System (LKAS): LKAS provides steering support for maintaining lane position and keeping you in control during freeway driving.
Intelligent Adaptive Cruise Control (IACC): IACC adjusts speed based on traffic conditions, allowing drivers to cruise without having to constantly adjust their speed manually.
These systems make sure that no matter what kind of road you're on, you can drive confidently knowing that your 2023 Ford Maverick has got your back covered. From reactive warnings and alerts to active assistance measures – this car knows how to keep its driver safe! And speaking of being smart, let's take a look at the fuel economy ratings of this new model…
Fuel Economy Ratings
The new 2023 Ford Maverick is a vehicle designed to make life easier. It has all the amenities and features that make driving enjoyable, but of course, it needs to be efficient too. The fuel economy ratings are where this car really shines. We've got numbers for both city and highway travel that will leave you smiling in amazement.
For starters, the combined MPG rating for the 2.5L EcoBoost engine is 33 – an impressive number when compared with some of its competitors! With two cylinders deactivated during light loads or steady speeds, the auto start-stop system helps reduce fuel consumption significantly as well. When idling at a stoplight or parked, there's no need to keep burning gas because this feature kicks off automatically after about three seconds.
Speaking of saving money on fuel costs, those who opt for the hybrid model can expect even better results. This powerful engine produces 181 horsepower while achieving an EPA-estimated 41 mpg in combined city/highway driving using regular unleaded gasoline. That means more time between fill-ups and less money spent at the pump!
What makes these figures so remarkable is that they're not achieved through sacrificing performance either; far from it in fact! Thanks to its advanced 10-speed automatic transmission coupled with SelectShift technology found exclusively in Fords, drivers have access to smooth shifts up and down their gear range without any difficulty whatsoever.
Clearly then, if you're looking for a reliable ride that'll get you around town or across country without breaking your budget – look no further than the all new 2023 Ford Maverick! Its excellent fuel economy ratings ensure savings now and into the future…Towing capacity? No problem! With available tow packages up to 2000 pounds max trailer weight, you'll find yourself ready for just about anything life throws your way behind the wheel of one of these rides.
Towing Capacity
The all-new 2023 Ford Maverick is a true revolutionary in the pickup truck market. It can handle anything you throw at it, including towing capacity that's out of this world. Take Tony and his boat as an example. He was looking for a reliable vehicle that could tow his large bass boat up to the lake with ease. After searching far and wide, he finally decided on the Ford Maverick – and he hasn't been disappointed since!
From its powerful 2.5L EcoBoost engine to its best-in-class payload rating of up to 1,500 lbs., the latest model from Ford has everything you need to tackle any job or adventure. Not only does it have impressive torque ratings of 310 lb.-ft., but it also features advanced safety systems like Trailer Sway Control (TSC) and Hill Start Assist (HSA). This ensures your trailer stays secure even when you're driving over rough terrain, giving you peace of mind no matter where you go.
To make things even better, the Maverick comes standard with a Class III trailer hitch receiver so you don't have to worry about buying extra equipment before hitting the road. You'll also find useful tech options like Intelligent Tow/Haul Mode which helps optimize powertrain performance while hauling heavy loads – perfect for those long trips out on the open highway!
Finally, if you need more muscle behind your ride, there's always the option of upgrading to either the available 2.0L Hybrid or 3.3L V6 engine packages that offer increased max tow ratings up to 7,700 lbs! So whether it's just a quick trip down to the dock or an extended vacation away from home, rest assured knowing that your new Ford Maverick will get you there safely and securely. With these features combined, there's nothing stopping you from realizing your dreams now than ever before!
Ready for some real off-road capabilities? Let's take a look at what else this awesome pickup truck can do…
Off-Road Capabilities
The all new 2023 Ford Maverick is ready to take your off-road adventures to the next level. From its impressive 8.5 inches of ground clearance, to the robust 4WD system, you'll be able to tackle any terrain with confidence and style. The available advanced Terrain Management System allows you to select different driving modes for maximum traction in a variety of conditions. Whether it's deep sand or muddy ruts, this truck can handle it like a pro.
When it comes time to hit the trails, there's no better companion than the Maverick. It has an aggressive approach angle and plenty of wheel articulation so you can easily navigate even the most challenging obstacles without breaking a sweat. Plus, the standard high-performance shocks help smooth out bumps and rocks along the way while reducing body roll during cornering.
If you're looking for serious performance on unpaved roads, then look no further than the optional Off-Road Package that adds beefy all-terrain tires, skid plates, locking rear differential and more – giving you everything you need for conquering whatever lies ahead. And if that wasn't enough, an available Trail Control feature takes care of acceleration and braking for an easier experience when traveling up steep grades or over boulders.
From its rugged capability features to its stylish design elements, the 2023 Ford Maverick offers drivers an unbeatable combination of power and sophistication – perfect for going wherever adventure calls! Now let's turn our attention towards pricing details…
Pricing Details
Okay, now it's time to talk about the cost of the all-new 2023 Ford Maverick. Now I'm well aware some folks out there don't like talking money – but hey, when you're buying a big ticket item like this one, it pays (literally) to know what you're getting into.
So let's get down to brass tacks: for starters, the base MSRP for the Maverick is going to be around $23k. That puts it in competition with other small trucks on the market and makes it more affordable than many models already available. However, that price tag can rises if you start adding features such as off-road packages or luxury amenities.
But here's where things really get interesting: Ford has also announced they'll offer lease options starting at just $346 per month*! That means even those who may not have been able to afford a truck before can now experience driving a Ford without breaking their bank accounts open. Of course, these leases come with restrictions so make sure you read all the fine print before signing anything!
The bottom line? The new Ford Maverick offers plenty of value whether you decide to buy or lease – plus lots of great features no matter how much cash you put down upfront. Time will tell just how successful this little truck will be – but regardless, its pricing structure should give potential owners an added incentive to check it out. And that brings us onto our next topic…color options!
Color Options
When it comes to color options, the all-new 2023 Ford Maverick has everything you're looking for. From classic black and white, to bold blues, greens and reds that'll have heads turning – there's something to match everyone's taste. Plus, if you really want your vehicle to stand out from the rest, you can choose a two-tone option with a contrasting roof! And when it comes to personalizing the exterior of your ride even further, Ford has got you covered with plenty of decal and stripe packages available.
Let's not forget about interior colors either; they range from subtle grays and tans to more vibrant oranges and purples that will make any drive feel like an adventure. The choice is yours! Finally, no matter which color palette you go for inside or out, get ready for some serious style points on every journey in the new Maverick. It's time to let your personality shine through – so why not start by selecting a hue that perfectly reflects who you are?
Trim Levels
Ford's all-new Maverick is now available in five trim levels, so you can get exactly the features and options you want. The entry level XL provides an affordable ride with plenty of punch – a 2.0L EcoBoost engine churns out 250 horsepower while saving on fuel costs. The mid-level XLS adds power heated side-view mirrors and upgraded cloth seat fabric to keep everyone comfortable.
Next up is the new Tremor package that combines ruggedness and style into one package. It comes standard with off-road tires and skid plates for extra protection when taking your Maverick over rough terrain. There's even a remote start system included to make sure the cabin is warm before you hop inside.
The top trim is where things really get interesting, starting with the Lariat which gives you leather seating surfaces, dual zone climate control, adaptive cruise control and more!
No matter what choice you make, Ford has made sure each version of their all new 2023 Maverick stands tall amongst its competitors – offering quality craftsmanship that breaks away from traditional standards of automotive design, letting drivers experience true liberation behind the wheel! Now let's take a look at some accessory options…
Accessory Options
Yup, the 2023 Ford Maverick is a versatile vehicle. It's got some great trim levels with plenty of features to choose from. But don't forget about all them accessory options out there! Let me tell you what I mean.
First off, let's talk audio systems. The Maverick can be equipped with an 8-speaker sound system that includes a subwoofer and amplifier for powerful bass output. And if that ain't enough, upgrade to the 10-speaker Sony Audio System which adds even more wattage and clarity. Plus, both feature Bluetooth connectivity so you can wirelessly stream tunes while on the road.
Next up are your convenience accessories – things like cargo organizers and roof racks that make hauling stuff a whole lot easier. You can also get weathertech mats for those times when it gets muddy in the backseat or cargo area; they'll help keep your interior clean no matter where ya go. Oh yeah, don't forget about bike racks too! So whether you're carrying luggage or sporting gear, these helpful add-ons ensure nothing gets left behind during your next trip away from home sweet home.
Finally, how 'bout style? If you want to customize your ride inside and out then grab yourself some exterior decals and interior accents like seat covers or custom gauges that show just how unique you truly are! From chrome wheels to spoilers, body kits to grille guards – there's lotsa ways to personalize this baby right down to its last nut and bolt!
So why not take advantage of all these cool accessories and give your 2023 Ford Maverick its own individual flair? Now it's time for the ultimate test: taking her for a spin around town…
Test Drive The Maverick
The all-new 2023 Ford Maverick is an absolute dream. It's like driving a spaceship! From the minute you turn on the engine, you can feel its unbelievable power and agility. You'll be blown away by how it handles corners, accelerates from 0 to 60 mph in under 6 seconds and glides smoothly over any terrain.
Here are three reasons why test driving the Maverick will make your heart skip a beat:
The exterior design of the Maverick has been meticulously crafted for maximum aerodynamics – every curve and angle work together seamlessly to create an unforgettable look that commands attention wherever you go.
Inside, the cabin is luxurious yet practical with features such as heated seats, ambient lighting and intuitive infotainment system so you can stay connected while on the road. Plus, there's plenty of cargo space for whatever life throws at you!
And last but not least, safety isn't something to take lightly when choosing your next car – luckily, the Maverick comes equipped with top-of-the-line driver assist technologies like adaptive cruise control and lane keeping assist so you can drive with peace of mind knowing that your vehicle is taking care of itself (and you!).
It may sound too good to be true – but trust us; one test drive of this amazing machine will have you hooked for life! With its combination of comfort, style, performance and safety – what more could anyone ask for? So don't wait another second – experience freedom behind the wheel today!. Ready to take off? Let's get ready to head into buying tips!
Buying Tips
If you're interested in the all new 2023 Ford Maverick, then it's important to know how to buy one. Here are a few tips that can help make your purchase as smooth and stress-free as possible.
First off, be sure to research the model thoroughly before signing any paperwork. Read customer reviews online, check out safety ratings, and look into fuel economy stats. This will give you an idea of what type of vehicle might fit your needs best. Keep in mind this product is extremely popular and you may need to be willing to wait a year or more to factory order one. The only available inventory on dealership lots are Used vehicles customers have sold to the dealers or cancelled orders. But they only stay on the lot for a couple of days so be sure to act fast!
Finally, consider shopping around for financing options if needed. Bowen Scarff Ford can help you compare rates from many different lenders to find the most competitive price available. Also, ask about any extra features like roadside assistance or extended warranties so you know exactly what kind of protection you're getting for your money. At Bowen Scarff Ford you will get a limited Lifetime Powertrain warranty with your vehicle purchase!
When buying something as significant as a truck, taking these steps can save you time and money in the long run. Do your due diligence now and enjoy driving away in confidence later!
Frequently Asked Questions
Does The Maverick Come With A Sunroof?
Let's get right to the point: Does the Maverick come with a sunroof? That's what you want to know, and that's exactly why I'm here. To answer your question directly – yes, it does! The all-new 2023 Ford Maverick is equipped with a sunroof that really amps up the luxurious feel of this vehicle.
But don't let me just give you an answer; let me tell you about some of the features that make this car unique. First off, it's got outstanding fuel economy for its class – more than 30 MPG on average. It also has standard Sync 3 technology so you can stay connected while driving around town. And of course, there's the stunningly stylish exterior design that catches everyone's eye when they see it rolling down the street.
Still not convinced? This model includes advanced safety features like Pre-collision Assist and Lane-keeping System which will help keep you safe on long trips or busy highways. Plus, it offers generous cargo space so you can easily carry stuff along during your travels without having to worry about fitting everything in one trip.
So if luxury, convenience and safety are important factors to consider when making decisions on a new car – look no further than the all-new 2023 Ford Maverick. With a sleek exterior design and cutting edge tech inside and out, you won't find another ride quite like this one anywhere else. Not to mention its impressive fuel efficiency, generous cargo capacity and host of driver assistive technologies makes this car stand above competitors in its class. All these qualities add up to an unbeatable package deal – so why wait any longer?
Is The Maverick Compatible With Apple Carplay?
Ah, the new 2023 Ford Maverick: a sleek and stylish addition to your driveway. But before you head out for some road-tripping fun, there's an important question that needs answering: Is the Maverick compatible with Apple CarPlay? Well folks, allow me to paint a picture of this innovative technology and its potential benefits.
Picture yourself cruising along in your new ride while listening to your favorite tune; now imagine that same song being controlled by voice commands! That's right, with Apple CarPlay integration – all it takes is a few simple words and you can be jamming away on whatever playlist you choose. No more fumbling around trying to find the right button – just call out what you need and let the Maverick take care of the rest. It's like having your very own personal DJ at your disposal!
But not only does Apple CarPlay offer convenience; it also brings safety into play. With access to navigation software as well as hands-free calling, using apps such as Maps or Messages has never been easier (or safer). You can keep both eyes on the road without worrying about scrolling through menus or digging up contacts from long lists – allowing for greater peace of mind when navigating unfamiliar terrain or simply making calls during rush hour traffic.
So if you're looking for a car capable of keeping up with our ever-evolving technological landscape, then look no further than the 2023 Ford Maverick – it'll have you singing along in no time! In short, it offers an array of features designed specifically for those who crave freedom and flexibility behind the wheel.
Does The Maverick Have A Rearview Camera?
Are you looking for the features of a 2023 Ford Maverick? Well, one thing to consider is if the vehicle has a rearview camera. A rearview camera is great for getting an extra boost in visibility when backing up or maneuvering on tight roads. It's also a safety feature that can help avoid accidents and other mishaps.
So let's answer our question: Does the new Mavericks have a rearview camera? Yes! According to Ford, they've included this helpful feature with every model of the 2023 Maverick lineup. That means no matter which trim level you choose, you'll get the convenience and peace of mind that comes with having a rear view camera installed in your car.
Now, I understand why some drivers might be hesitant about investing in cars that come equipped with all these bells and whistles – it could seem like overkill at first glance. But trust me – once you experience how much easier it makes life behind the wheel, especially in trickier driving conditions like low-visibility parking lots or unfamiliar streets, you'll see what an incredible addition it really is. Plus, if anything were ever to happen while reversing – from running into another car to missing something vital – then being able to reference footage from your backseat would be invaluable.
In short – yes, the 2023 Maverick does include a rearview camera as part of its standard package. So don't worry – there's nothing extra you need to buy here; just enjoy the added assurance without breaking your budget.
Is The Maverick Available With A Hybrid Engine?
Does the new 2023 Ford Maverick have what it takes to make you feel liberated? Well, if an eco-friendly hybrid engine is on your wish list, then the answer might just be a resounding yes! You see, with the ever-growing popularity of hybrids and electric cars, automakers are scrambling to keep up. And thankfully for us, Ford has stepped up their game in this area with the latest version of its legendary Maverick model.
But don't take my word for it – let's take a look at some of the features that come standard on this revolutionary piece of automotive technology. First off, you'll find a powerful four-cylinder engine under the hood that provides plenty of power without sacrificing fuel efficiency. Plus, there's also an optional hybrid system if you're looking to reduce emissions even further. But what really sets this vehicle apart from its competitors is its impressive array of innovative safety features. From lane departure warnings and blind spot monitoring systems to rearview cameras and adaptive cruise control – all designed to help keep you safe while out on the open road.
Of course, no matter how good any car looks or performs on paper; nothing beats taking it out for a spin around town before making a final decision. That's why we suggest heading down to Bowen Scarff Ford in Kent and test driving one yourself! Once behind the wheel, you'll quickly realize why so many drivers choose the Ford Maverick when they need something reliable yet still stylish enough to turn heads as they drive by.
So whether you're looking for an exciting daily driver or something that can handle weekend getaways with ease – look no further than the 2023 Ford Maverick Hybrid Edition! With both style and substance packed into one affordable package – it's sure to satisfy even those who crave liberation through their vehicles!
How Much Does The Maverick Weigh?
How much does the maverick weigh? Now, this isn't just a simple 'yes' or 'no' kinda thing, so let me break it down for ya.
First off, what we're talking about is an automobile – specifically one that may soon be hitting the streets. That means there are gonna be some specs involved in answering this query. To start with, you'll want to know the model year of this vehicle and whether or not it comes standard with any kind of weight-saving features.
The good news is that Ford has already released information on its new 2023 Maverick lineup, which includes two different models – each boasting their own set of features and capabilities. The base model weighs in at around 3,500 lbs., while the more luxurious offering tips the scales at just over 3,800 lbs. Not too shabby! But if you really wanna get into specifics then you can dig deeper into all kinds of weights associated with individual components like engine type (turbocharged vs non-turbo) and other bells and whistles such as four wheel drive capability and cargo capacity.
But wait…there's more! You'll also need to consider things like aerodynamics when trying to determine how much your car will actually weigh once outfitted with all those extras. For example, something like drag coefficient could make a big difference in how quickly your ride accelerates from 0-60 mph – so do some research before committing to a particular setup.
At the end of the day, though, understanding exactly how much your Maverick weighs depends largely on what options you choose when configuring your dream machine—so don't forget to factor that into your equation!
Conclusion
The 2023 Ford Maverick is quite the impressive vehicle. From its sleek design to its cutting-edge technology, it's sure to turn heads and win hearts. But does it come with a sunroof? Is it compatible with Apple CarPlay? Does it have a rearview camera? And most importantly, is there a hybrid option available?
Let me tell ya, all your questions can be answered in the affirmative! Yes indeed, you'll get an optional power panoramic glass roof that lets you take in more of the world around you. You'll also find plenty of digital goodies like standard Apple CarPlay compatibility and a rearview camera system for added safety when backing up. Plus, if eco-friendly performance is what gets your motor running then rest easy knowing that the Maverick has gotcha covered – just ask about their Hybrid engine package.
And finally, let's not forget that this bad boy tips the scales at only 3,500 pounds which makes it light enough to handle but still heavy enough to give passengers peace of mind. The 2023 Ford Maverick truly packs everything into one powerful package – so why wait any longer? Get out there and make some memories with this amazing ride!