2023 Ford Super Duty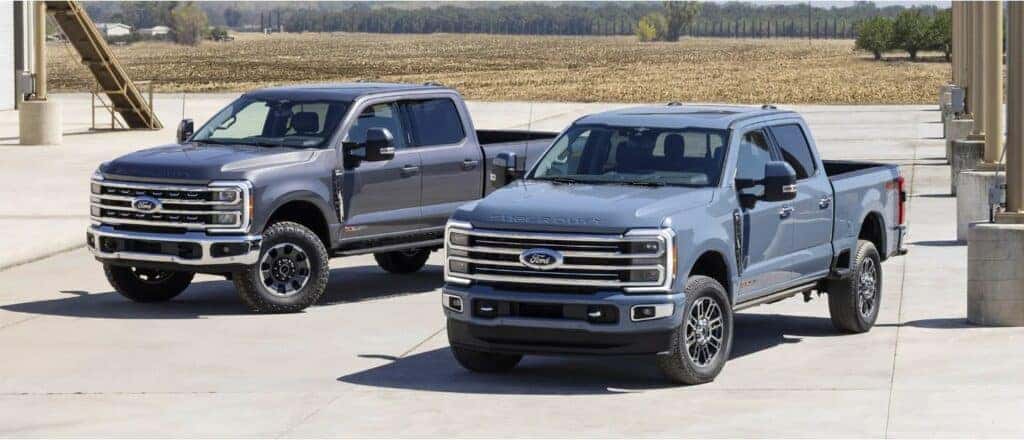 The 2023 Ford Super Duty is like a shining beacon of modern technology, offering up a dazzling array of features that make it one of the most capable and reliable vehicles around. It's an ideal choice for anyone looking to have their own set of wheels that can tackle any task with ease. Whether you're hauling cargo across town or taking on some off-roading adventures, this truck has got your back. In this article, we'll explore all the bells and whistles that come along with owning a 2023 Ford Super Duty – from its powerful engine options to its cutting-edge safety systems. So if you've been searching for something special in your next ride, look no further than the 2023 Ford Super Duty!
When it comes to dependability and power, there's nothing quite like the new 2023 Ford Super Duty. Boasting industry-leading performance specifications and advanced technologies, this pickup truck offers everything you need when hitting the road. Its turbodiesel V8 engine produces an impressive 1,000 lb.-ft. of torque while delivering excellent fuel economy ratings – giving drivers plenty of get-up-and-go without sacrificing efficiency. And with available four-wheel drive capabilities, you won't have to worry about getting stuck in mud or sand anytime soon!
From its rugged exterior styling to its high-tech interior amenities, the 2023 Ford Super Duty is equipped to handle whatever life throws at it. The cabin is outfitted with a range of modern conveniences such as dual climate control zones and Apple CarPlay compatibility so you can stay comfortable and connected during your travels. Plus, driver assistance features like blind spot monitoring help ensure peace of mind behind the wheel. With so much going for it under the hood and inside the cab, it's easy to see why the 2023 Ford Super Duty is fast becoming America's top pick for full size pickups!
Overview
The Ford Super Duty is a powerful, reliable truck that offers drivers the perfect combination of power and performance. With its tough frame, rugged design, and advanced technology, it's no wonder why this truck has become an industry leader. It's easy to see why so many drivers have chosen the Ford Super Duty for their work or recreational needs.
From its exterior styling to its impressive interior features, the Ford Super Duty stands out from the competition with ease. A strong engine lineup delivers plenty of capability when you need it most while still providing excellent fuel efficiency. The cabin is full of modern amenities that make every drive comfortable and convenient. Plus, with available driver-assist technologies like adaptive cruise control and blind spot monitoring, you can rest assured you're in safe hands on any road.
For those who require extreme capabilities, the Ford Super Duty provides them in spades – whether off-road tackling trails or hauling heavy loads across town. Its formidable construction ensures dependable operation day after day and mile after mile – making the Ford Super Duty a top choice among serious truck enthusiasts everywhere. Onward we go now to explore all these great design features in further detail…
Design Features
The Ford Super Duty has been engineered with remarkable features that make it stand out from the crowd. As you take a closer look, it only gets more exciting! With its bold design and advanced technologies, this truck is sure to turn heads wherever you go. Here are some of its most impressive design features:
* Rugged body-on-frame construction for superior strength and durability.
* A three-bar chrome grille giving an iconic presence on the road.
* An available tailgate step for easy access into the bed of your pickup truck.
This vehicle also comes with several exterior color options so you can show off your personality in style. Whether you're driving around town or hauling heavy loads over long distances, these design elements work together to create a powerful statement about who you are and what you stand for. So hop in the driver's seat and let this beast do the talking!
Next up we'll explore how power meets performance under the hood with engine options that make all other trucks jealous.
Engine Options
The Ford Super Duty offers a variety of engine options that are sure to please any driver. With five different engines available, there's something for everyone. The base model comes with a 6.2 liter V8 gas engine, capable of producing 385 horsepower and 430 lbs-ft of torque. It also has best in class fuel economy ratings at 17 MPG city, 23 MPG highway, and 19 MPG combined. For those who need more power or hauling capability, the 7.3L V8 is perfect; it delivers 440 horsepower and 475 lbs-ft of torque making it one of the most powerful engines in its class. Finally, if you're looking for maximum performance, the 3.0L Power Stroke Turbo Diesel V6 will deliver 475 horsepower and 1125 lbs-ft of torque – enough to tow up to 37,000 pounds!
No matter what type of engine you choose for your Ford Super Duty, you can be confident that it will get the job done and provide reliable performance over time. And with such an impressive array of options under the hood, you'll feel right at home behind the wheel of your new ride! Now let's take a look at how this vehicle stacks up when it comes to safety technology…
Safety Technology
The Ford Super Duty is the cream of the crop when it comes to safety technology. It's equipped with a host of active safety features that will make sure you and your passengers are safe no matter what life throws at you.
For those times when all else fails, there's also pre-collision assist with autonomous braking—a feature that senses obstacles ahead and automatically applies brakes when necessary to avoid impact with pedestrians, cyclists, and other vehicles alike. This gives drivers peace of mind knowing they're protected even if their own reflexes aren't quick enough to prevent a collision. Combined with airbags throughout the cabin and inflatable rear seatbelts in select trim levels, you know your family is well taken care of inside this beastly truck!
All these features protect both occupants within the cab and people outside the vehicle too: making the Ford Super Duty one heck of a practical yet stylish ride for everyday use or weekend fun trips away from home. With its superior safety tech capabilities, anyone who steps into this super duty will feel secure behind its wheel every time they drive off down any path that lies before them! And now let's take a look at how much weight this powerhouse can tow…
Towing Capacity
The Ford Super Duty is a powerhouse of towing capacity. It's like an unstoppable freight train that can haul just about anything you throw at it – and then some! With its impressive array of engines, including the 6.7L Power Stroke V8 Turbo Diesel with 475 hp and 1,050 lb-ft torque, this truck has no problem hauling up to 21,000 lbs of trailer weight when properly configured. And thanks to the advanced 10-speed SelectShift automatic transmission and Electronic Locking Rear Axle with 4:30 ratio, it provides smooth shifts for maximum control on any terrain. Plus, the available class-exclusive Pro Trailer Backup Assist system takes the guesswork out of backing up your trailer.
But it isn't all brute strength; there are also plenty of convenience features to make your life easier while towing. The Tow/Haul mode adjusts shift points automatically so you don't have to worry about manually shifting gears and losing momentum. There's also a unique exhaust brake feature that helps slow down heavy loads without having to apply manual brakes or wear down your normal braking components over time. Finally, with Trailer Sway Control technology enabled, you can feel secure knowing that your load will stay in place even if high winds or other elements try to push it off course.
With these incredible capabilities in tow (pun intended), you'll be ready for whatever adventures come your way! Now let's take a look at what else makes the Ford Super Duty stand out from other trucks – its interior features.
Interior Features
The Ford Super Duty offers plenty of luxurious features on the inside, making it a great choice for those who demand more than just good towing capacity. From its spacious and comfortable cabin to the plethora of technology options, this truck has something for everyone.
Here are some key interior features you will find in the Ford Super Duty:
Spacious seating with lumbar support for maximum comfort
Touchscreen infotainment system with navigation capabilities
AppLink integration for easy access to your favorite apps
You won't have to worry about feeling cramped in the Ford Super Duty – there is plenty of legroom and headroom throughout. The touch screen allows you to control audio, climate, and other settings from one convenient location. Additionally, AppLink makes it easier than ever before to stay connected while on the go with handsfree access to all your favorite applications such as music streaming services and messaging platforms.
For an even more luxurious experience, opt for heated leather seats or a sunroof to enjoy beautiful views during your next adventure. With so many interior features available, you can customize your ride exactly how you want it. Now that's what we call style! Ready to see what color options are offered?
Exterior Color Options
The Ford Super Duty stands out among other trucks with its wide range of exterior color options. Driving around town and seeing the vivid hues like Agate Black, Caribou Metallic, or Race Red can be a kaleidoscope for your eyes! From classic neutrals to eye-catching neons, there's something for everyone – making you feel special as if it were crafted just for you.
If you're looking for subtle sophistication, the stunning White Platinum Tri-Coat will give your truck an air of elegance without being ostentatious. For those that prefer bolder colors, Magnetic looks beautiful in sunlight and lends an edge to any drive. But nothing compares to Iconic Silver – this shade is timeless and tantalizingly gorgeous at night.
So no matter what look you're going for, the Ford Super Duty won't disappoint when it comes to exterior color selections. The sky's the limit on how creative you want to get – giving you control over your vehicle's appearance and style. With so many possibilities ahead, let's take a closer look at bed lengths & cargo volume next.
Bed Lengths & Cargo Volume
With its bold exterior, the Ford Super Duty is ready for any road trip. But what about cargo space? Luckily, this truck offers several bed lengths and plenty of room to store gear you need on your adventures.
The first option is a 6-foot 8-inch box length with a volume of 52 cubic feet. This size is perfect if you're looking for an easy way to transport smaller items like camping equipment or sporting goods without taking up too much space in your driveway. It's also great if you don't want to worry about how much weight you can haul in your truck bed as it has a payload capacity of 2,300 pounds.
Next, there's the 8-foot box length with a maximum cargo volume of 78 cubic feet. If you find yourself needing extra storage for large items such as furniture or tools, then this larger bed will be ideal for all your hauling needs. Plus, it comes with a heavy duty payload rating of 3,250 pounds so that nothing will slow down your travels.
Finally, the last option is the 10-foot box length which offers up to 97 cubic feet of usable space – more than enough to bring along anything else necessary for that weekend getaway! With its 4,200 pound payload capacity and extended wheelbase, this massive bed makes sure that you have all the room needed no matter where life takes you next.
For drivers who are looking for even more options when it comes to their Ford Super Duty trucks, there are special edition models available too!
Special Edition Models
Ford Super Duty models have been available in special editions since 1999. The King Ranch, Lariat and Platinum trims offer a variety of features that let drivers enjoy performance-enhancing powertrains, luxurious interiors and unparalleled exterior styling. Whether you're looking for the best towing capabilities or need a work truck that can handle any job site with ease, Ford Super Duty has something for every driver.
The latest 2020 model year offers an array of options ranging from 4×2 or 4×4 drivetrain configurations to 6.7L Power Stroke® Turbo Diesel V8 engines. It's no wonder why so many people choose this powerful lineup as their go-to vehicle when they want the most out of their experience on the road. And with its unique range of colors and trim packages, you'll always be able to find one that suits your lifestyle perfectly.
When it comes to choosing the right Super Duty edition for your needs, there is no shortage of possibilities – each offering superior comfort and capability while still delivering exceptional value. With these choices at your fingertips, you won't have any trouble finding one that fits both your budget and daily driving needs. From practicality to luxury, Ford Super Duty has everything you need to take life by storm!
By providing such a wide selection of vehicles tailored for different lifestyles and budgets, Ford truly lives up to its reputation as being one of the leading automakers in terms of quality construction and craftsmanship. Now all we need is an overview of how fuel economy ratings compare across various models before we move onto other topics.
Fuel Economy Ratings
The Ford Super Duty has some impressive fuel economy ratings. Its class-exclusive 6.7L Power Stroke® V8 Turbo Diesel engine can get up to 475 horsepower and an astounding 1,050 lb.-ft of torque, all while still getting a remarkable 15 city/20 highway mpg. This is great for those looking for a vehicle that can haul large cargo with plenty of power but also save money on gas at the same time.
For customers who want to maximize their savings at the pump, there's also the 7.3L OHV PFI Gas V8 engine – it delivers incredible performance along with 17 city/23 highway mpg as well as best-in-class gas torque rating of 468 lb.-ft making it perfect for day-to-day driving needs or weekend adventures alike. No matter which fuel type you choose, you're sure to be satisfied with what the Ford Super Duty can offer in terms of overall efficiency and power.
With its powerful yet efficient engines, the Ford Super Duty offers drivers a unique combination of style, capability, and convenience – now let's take a closer look at pricing & availability to see how you can make one your own today!
Pricing & Availability
Much like life itself, the price of a Ford Super Duty can vary greatly depending on your needs and wants. It is often said that you get what you pay for, and this couldn't be truer when it comes to investing in powerful, reliable performance. The pricing for these trucks is reflective of their advanced technology and engineering – so don't expect to pick one up at an inexpensive price point.
That being said, there are several payment options available at dealerships across the United States. Most offer flexible financing plans with low interest rates and generous terms. Customers may also have access to special offers or discounts which could help lower the overall cost even further. There's no need to feel overwhelmed by sticker shock – as long as you do your research beforehand and make sure you understand all aspects of any potential deal before signing anything.
At the end of the day, it's important to remember that buying a truck isn't just about finding a great deal; it's about getting something that will serve your purpose both now and into the future. Investing in quality assurance measures such as extended warranties means peace of mind should something go wrong down the road. With its outstanding track record for reliability, putting faith in a Ford Super Duty won't let you down – or leave your wallet empty! As they say: 'A penny saved is a penny earned', so why not spend wisely? Now let us move onto discussing warranty coverage…
Warranty Coverage
The Ford Super Duty is built to last, and the confidence of its durability comes down to the warranty coverage. Whether you're an owner-operator or a fleet manager looking for reliable vehicles that won't let you down, the Ford Super Duty delivers with its comprehensive warranty plan.
With this package of warranties in your corner, you can rest assured knowing that no matter how tough life on the open road gets, your vehicle will be able to handle it. The combination of these features ensures complete peace of mind for anyone operating a Ford Super Duty truck. And so whatever challenges come up along the way – extreme temperatures, long hauls with heavy loads – you know your truck has got you covered.
As we look towards financing and leasing options on our next journey together, one thing remains certain: You're in good hands when driving a Ford Super Duty truck.
Financing & Leasing Options
Once you have the assurance of a Ford Super Duty with its warranty coverage, it's time to think about financing and leasing options. Thankfully, Ford has got your back in this regard too! With competitive rates for both new and used vehicles, you can find yourself behind the wheel of a brand-new pickup quickly and easily.
For those of us who don't like having monthly payments, there are also plenty of other ways to finance your purchase. You can opt for an auto loan from one of our trusted lenders or simply pay cash. No matter what route you choose, you'll know that you're getting a great deal on your truck.
The best part is that we make it easy to get approved no matter what credit score you have. Our team will work hard to ensure that all paperwork is filed correctly so that everything runs smoothly during the process. That way, you can focus on choosing the perfect vehicle rather than worrying about any potential hiccups along the way. Plus, with flexible terms available, finding something that works within your budget won't be a problem at all.
As if things couldn't get any better – they do! Now it's time to turn our attention to service & maintenance plans which provide peace-of-mind for years down the road.
Service & Maintenance Plans
For those who have purchased a Ford Super Duty, you know that regular service and maintenance plans are essential for keeping the vehicle in good working condition. That's why we offer an array of services to help keep your truck running like new:
Service & Maintenance Plan
Regular Vehicle Inspections
Check fluid levels
Change engine oil and filters
Rotate tires
Scheduled Repairs
Replace worn out brake pads or rotors as needed
Adjust brakes/clutch when necessary
Comprehensive Diagnostics
Computerized scanning tools provide detailed diagnosis of issues with your truck's system performance.
We strive to make sure all our customers get the highest quality service possible so they can enjoy their vehicles worry-free. This includes offering flexible payment options and providing discounts on parts and labor. Our team of certified technicians is dedicated to making sure each customer has a positive experience. Let us show you how easy it is to maintain your Ford Super Duty! We look forward to helping you take great care of your investment. Now let's take a look at what consumers are saying about their experiences with this iconic pickup truck…
Consumer Reviews
The Ford Super Duty has received rave reviews from consumers. As the best selling Truck for over 45 years, many have praised its durability, power and features. Its overall performance is highly rated among owners due to its reliability and dependability on the road.
Owners report that the Ford Super Duty's powerful engine allows it to tow heavy loads with ease and confidence. They also like how well-equipped this truck is when it comes to having all of the bells and whistles they could want in a vehicle. Additionally, they are impressed by how tough and rugged this pickup can be while navigating any terrain or off-road situation.
Overall, the Ford Super Duty provides plenty of advantages for those seeking power, safety and luxury but there are several downsides to consider before making a purchase decision.
Frequently Asked Questions
What Type Of Maintenance Is Required For The 2023 Ford Super Duty?
Maintenance is a critical part of keeping any vehicle running smoothly, and the new 2023 Ford Super Duty is no exception. But what type of maintenance does it require? From oil changes to brake inspections, there's plenty that needs to be done in order to keep your Super Duty running its best.
It starts with regular service intervals—oil changes for engine lubrication, filter replacements for air and fuel delivery, tire rotations for even wear on all four tires—all important steps towards longer-term reliability. And then you have specific maintenance tasks like full brake inspections: checking pads and shoes for wear, inspecting calipers and cylinders for leaks or damage, and replacing drums or discs as needed. This type of comprehensive inspection will ensure optimal performance from your brakes over time.
Ultimately, staying ahead of scheduled maintenance can save you money in the long run by preventing costly repairs down the line. Taking care of your Ford Super Duty now means more reliable miles later on. So if you want to get the most out of this impressive vehicle, don't forget about preventive maintenance!
Is The 2023 Ford Super Duty Compatible With Aftermarket Parts?
Ah, the age-old question: is it possible to trick out a vehicle with aftermarket parts? It seems that this timeless quandary has been answered in the affirmative – at least if you're talking about the 2023 Ford Super Duty. Here are five reasons why this truck can be modified and enhanced using aftermarket options:
Availability – Aftermarket parts for this model of Ford truck are readily available from many major retailers.
Compatibility – The 2023 Ford Super Duty is designed to work seamlessly with almost any type of aftermarket part or accessory.
Durability – Because these parts have been tested and certified by Ford, they will hold up over time even when subjected to harsh conditions and frequent use.
In a sense then, one could say that the 2023 Ford Super Duty was made for customization! With its abundance of compatible aftermarket components, there's no limit on how far an owner can go in making their ride truly unique. Whether they choose to upgrade existing features or add new ones entirely, they'll know that their modifications won't compromise the integrity of their vehicle's performance or reliability.
And so we see once again that customizing your car isn't just something nice to do; it can actually improve the overall experience as well! What better way to make your prized possession stand out than by adding some carefully chosen aftermarket additions? So don't hesitate any longer – start shopping around today and get ready to make your dream ride come true!
Are There Any Special Financing Or Leasing Options Available For The 2023 Ford Super Duty?
Are you in the market for a new truck? The Ford Super Duty is an excellent choice, and if you're wondering whether there are any special financing or leasing options available for this model then let's explore what it has to offer.
It is common knowledge that purchasing a car can be expensive, but with innovative payment plans from Ford, getting your hands on the Super Duty doesn't have to break the bank. In addition to low interest rates and loan terms of up to 84 months, customers may also take advantage of discounts on extended warranties as well as no-cost maintenance packages.
So if you want a reliable vehicle without breaking your budget, don't forget about the amazing incentives offered by Ford when it comes to their top-of-the-line Super Duty pickup. With such great deals available, now could be the perfect time to invest in one of these powerful trucks!
Does The 2023 Ford Super Duty Come With A Roadside Assistance Plan?
The open road can be a beautiful, peaceful thing. But when the unexpected happens, even the most experienced drivers need some assistance. That's why many people want to know: does the 2023 Ford Super Duty come with roadside assistance?
When you're looking for reliable transportation and peace of mind, you'll appreciate that this model comes equipped with an extensive plan. This coverage is designed to help get you back on your way quickly in case of breakdowns or other problems along the journey. It covers services like flat tire repair, jump-starts, winching, fuel delivery, and more—all included in one convenient package.
Whether it's running errands around town or taking a cross-country trip, knowing that you have access to 24/7 roadside assistance is invaluable. In addition to making sure you get where you need to go safely and securely, it also provides added assurance against any possibility of getting stuck in an inconvenient situation far away from home. With the 2023 Ford Super Duty's comprehensive plan at your disposal, your travels will always be stress free!
Does The 2023 Ford Super Duty Offer A Driver-Assist System?
Are you looking for a driver-assist system in your next car? The 2023 Ford Super Duty may have just what you need. While there are many features to consider when choosing a vehicle, the driver-assist option is one of the most important. It can help keep you safe on the roads and make driving more enjoyable.
The 2023 Ford Super Duty offers an impressive array of advanced safety technologies, including adaptive cruise control, lane-keep assist, automatic emergency braking, and blind spot monitoring. These systems use sensors to detect potential hazards and alert drivers accordingly. The adaptive cruise control feature adjusts your speed automatically based on traffic conditions so that you can maintain a comfortable distance from other vehicles. Additionally, the lane-keep assist will gently correct your steering if it detects that you're veering out of the designated lane. As for blind spot monitoring, this sensor-based system warns drivers about cars or objects located outside their direct line of sight.
Overall, these smart technologies provide peace of mind while behind the wheel as they monitor road conditions and scan for potential dangers on behalf of drivers. With all these features combined into one comprehensive package with easy access through voice commands or buttons on the dashboard, the 2023 Ford Super Duty has everything necessary to make sure its occupants stay safe during their journeys!
Conclusion
In conclusion, the 2023 Ford Super Duty is a real winner. It has all of the features that any driver could ever want and it's easy to maintain too! Even though you may have to pay a bit more than some other vehicles, it'll be worth every penny in the long run since you won't need to worry about costly repairs or aftermarket parts. Plus, with plenty of financing options available, there's no worrying about having enough funds to cover your purchase. And lastly, if anything does go wrong while on the road – don't worry; Ford got you covered with their dependable roadside assistance plan so I can focus on getting where I'm going safely. All things considered, I'd say investing in the 2023 Ford Super Duty is an excellent choice for anyone looking for reliable transportation.